Staff
Nathan Wilson
Administrative Resident
E-Mail:

Dawn Routledge
Director of Operations
Office: 517-283-3982
E-Mail:
Facebook: Dawn.Routledge.9

I am passionate for Jesus Christ and desire, in fact beg Him, to use Doug and I every day that we live, with all that we have, for the rest of our lives. Reaching rural youth for Christ, through the vehicle of Crossroads Farm, is the outpouring that I share with my luscious husband of 24 years. Our three most lovely daughters, Madison (21), Raegan (18) and Lauren (16) are the joy we are watching God unfold as they pursue a life lived for Him.
This Crossroads Farm calling and journey...yeah, I'm more of a destination girl. It's been ever so much harder than we anticipated in our wild faith founding 18 year ago. My favorite words in the Bible, "Yet" and "But God." There is exceedingly, abundantly more than we could ask or think both behind and before us in this ministry. I am humbled by all that God has and will allow us to see, and pray toward all the things we won't see on this side of heaven.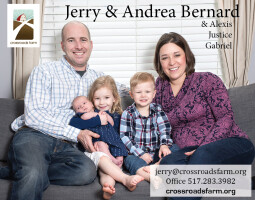 Jerry Bernard
Administrative Area Director, CRF North West
Office: 517-283-2982
E-Mail:

God has called me to go farther, to take risks, to love fully, to do everything in the strength of Christ and for the Glory of God -and to lead others in doing the same.